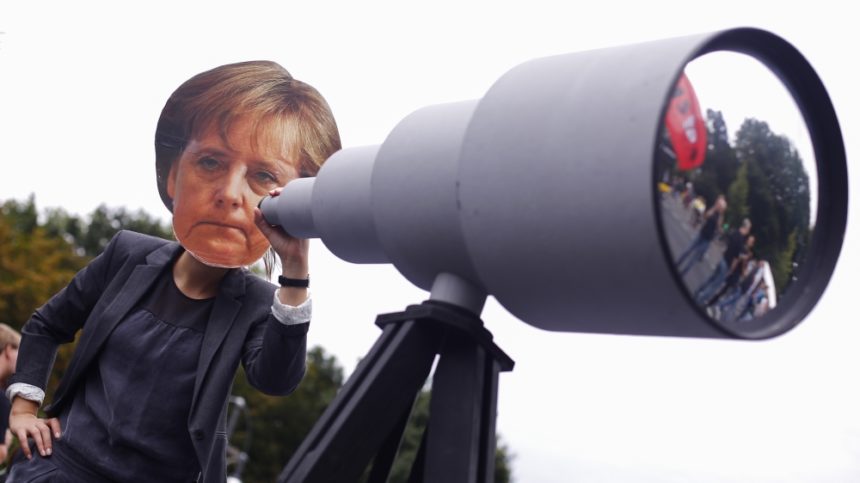 Germany's Free Democrats (FDP) have harshly criticized Chancellor Angela Merkel's over her government's record on state surveillance and civil liberties.
"For four years, civil liberties have had no advocate in the grand coalition," FDP chairman Christian Lindner said at an event in Berlin, where the FDP presented a "poison list" of seventeen recent legislation and policies that it says curtail personal freedom in Germany.
DW reports that the list includes everything from expanded video surveillance to the collection and retention of telecommunications data and the use of malware to spy on possible criminals to proposed reforms that would enhance the powers of Germany's intelligence services. Together, say FDP leaders, these measures amount to a pernicious trend.
"We're sliding into a surveillance state," former German Interior Minister Gerhart Baum said, adding: "In all my days I've never experienced such an abundance of measures."
Lindner said that a "general reversal" on these issues would be a precondition for any future partnership between Merkel's Christian Democrats and the FDP.
"We're not going to tolerate any unconstitutional laws in a coalition," Lindner said.
The FDP's criticism is the latest expression by detractors who say the government has over-prioritization the issue of security.
"The relationship of freedom to security has become imbalanced in the last legislative period," said Lindner, whose party failed to clear the five-percent hurdle needed for parliamentary representation in the 2013 election — a situation the FDP hopes to rectify in September. "We will insist that basic rights be respected and that laws contrary to those rights be revised and in individual cases be challenged on constitutional grounds."
Lindner announced that his party would participate in a constitutional challenge of the new surveillance law, which allows the government to use so-called "Trojans" to collect online data. The law passed the Bundestag last week over strong objections.
the NGO freiheitsrechte.org (freedom rights) has leveled several criticisms at the law, concluding that it was "constitutionally unjustifiable."
Freiheitsrechte will file an official constitutional complaint against the so-called "state Trojan law." Other civil rights organizations have already said they would file their own law suits in an effort to block the law.
Critics are especially upset about the Telecommunications Data Retention Law, which was originally passed in December 2015. It will require, as of 1 July, telecommunications companies to save data for government use for six months.
"In the past weeks and months, we've seen massive restriction of civil liberties with the surveillance laws," Friedemann Ebelt of event co-organizer Digital Courage told Deutsche Welle. "We need policies that restore individual liberties. This flood of surveillance needs to be confronted with a reform for more freedom. That means a reduction of telephone and Internet surveillance and the far-too-large intelligence service infrastructure. People need to be given back control over their communication and their communication devices."
Digital Courage also intend to challenge another new law, the Data Retention Law, in Germany's Constitutional Court.
The raft of new surveillance laws, enacted in May in the aftermath of the Christmas market attacks in Berlin last December, greatly expands governmental use of surveillance cameras in public locations.
Data-protection NGOs agree that more video cameras mean less freedom but necessarily more security.
"In the overwhelming majority of cases video surveillance simply doesn't yield results," said Ebelt. "There's still no evidence that it works."
That's a view shared by the FDP and Lindner, who called for an end to "symbolic restrictions of freedom that don't work."
This article is published courtesy of Homeland Security News Wire.