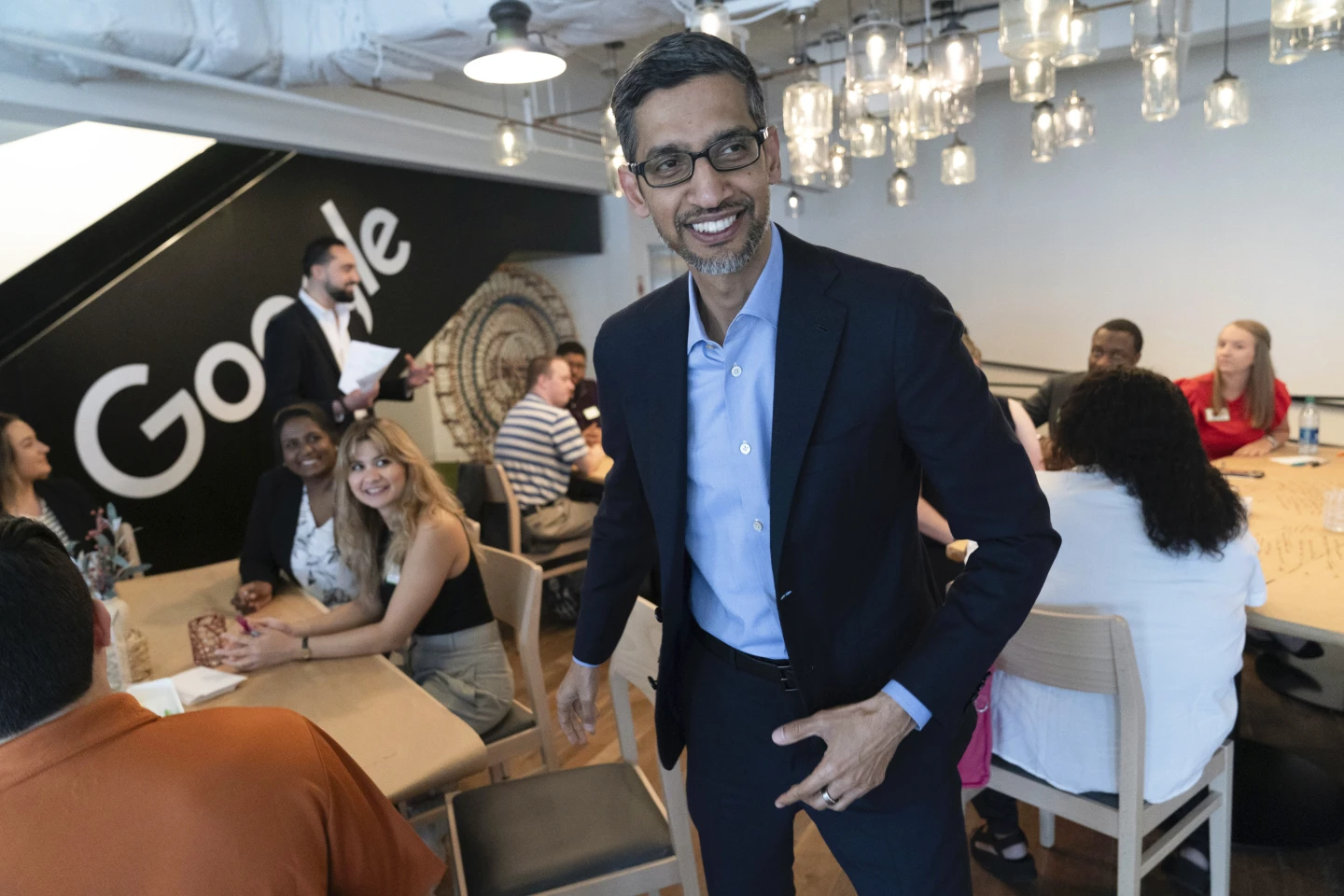 Free medical clinics and legal aid clinics, where college students and their instructors help their communities while also learning more about their professions, are now commonplace. Google hopes to add cybersecurity clinics to that list.
Google CEO Sundar Pichai pledged $20 million in donations on Thursday to support and expand the Consortium of Cybersecurity Clinics to introduce thousands of students to potential careers in cybersecurity, while also helping defend small government offices, rural hospitals and nonprofits from hacking.
Pichai said the new initiative addresses both the rising number of cyberattacks — up 38% globally in 2022 – and the lack of candidates trained to stop them.
"Just as technology can create new threats, it can also help us fight them," Pichai said, announcing the commitment at Google's Washington offices. "Security was critical to the work I did early in my Google career, including when we built our Chrome browser. Today, it's core to everything we do, and the current inflection point in AI is helping take our efforts to the next level."
The tech giant launched the Google Cybersecurity Certificate program last month to help prepare people for entry-level cybersecurity jobs. It also partnered with universities in New York on a research program to create learning and career opportunities across the cybersecurity sector.
"Making sure we protect and safeguard both the consumer services and the enterprises services we provide is foundational to the company, which is why we treat it as such," Pichai told The Associated Press in an interview after the announcement. "We've been building security from the ground up for a long time and training to innovate and stay ahead."
Google's announcement had support from Congressional members on both sides of the aisle. Republican Rep. Jay Obernolte of California said addressing cyber threats is essential to the country's economic competitiveness as well as national security. He added that China will likely produce twice as many computer science students with doctoral degrees this year than the United States.
"We need to incentivize students to pursue careers in fields like cybersecurity to reverse that trend," he said. "We must all embrace the idea of becoming lifelong learners."
Rep. Joaquin Castro of Texas said Google's initiative helps democratize cybersecurity, providing more employment opportunities and more protection to those not located in Silicon Valley.
"Small businesses literally can lose hundreds of thousands of dollars every year," Castro said. "I'm grateful to Google for building on their commitment to support the growth of a workforce necessary to do everything from securing critical infrastructure in local communities to bolstering our national security."
Pichai said there are currently more than 650,000 open cybersecurity jobs and there is a need for a diverse workforce to address the issue. "We have seen this in the past when we've gone to communities and open data centers in rural communities," he said. "It creates a spark. It inspires more people… These are catalyzing moments."
Justin Steele, director of Google.org, the company's philanthropic arm, said the initiative appealed to his team because it seeks projects where the funding can spawn change on multiple levels.
"It's a challenge," Steele said. "But there's a huge opportunity here."
Steele anticipates the cybersecurity clinics will have students help small organizations that lack their own technology departments with threat assessments and installing defenses.
"Those students get hands-on experience and they get to increase their marketability for all of these open jobs in cybersecurity," Steele said. "We get to diversify the field of cybersecurity by training these students and we get to protect critical U.S. infrastructure."