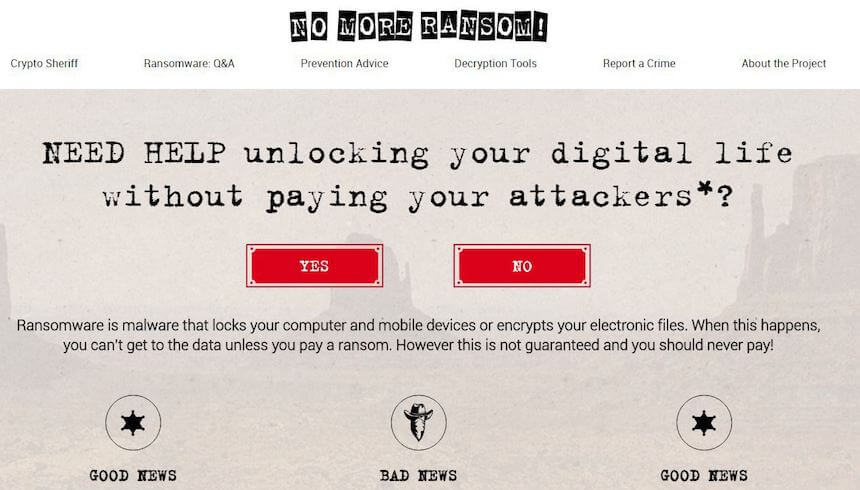 One year ago, on 25 July 2016, the No More Ransom initiative was launched by the Dutch National Police, Europol, McAfee, and Kaspersky Lab. Today, the initiative has more than 100 partners, as major ransomware attacks continue to dominate the news, hitting businesses, governments, and individuals all over the world.
Ransomware has soared since 2012, with criminals attracted by the promise of profit and ease of implementation. The threat continues to evolve, becoming stealthier and more destructive, increasingly targeting businesses more than individuals because the potential returns are much higher.
The indiscriminate WannaCry attack in mid-May claimed more than 300,000 business victims across 150 countries in its first few days, crippling critical infrastructure and businesses. Some organizations are still struggling to recover from ExPetya attacks of 27 June.
The total number of users who encountered ransomware between April 2016 and March 2017 rose by 11.4 percent compared to the previous twelve months, from 2,315,931 to 2,581,026 users around the world.
No More Ransom's first year in numbers
Europol says that the site now carries fifty-four decryption tools, provided by nine partners and covering 104 kinds (families) of ransomware. So far, these tools have managed to decrypt more than 28,000 devices, depriving cybercriminals of an estimated EUR 8 million in ransoms.
The portal has counted over 1.3 million unique visitors. On 14 May alone, during the WannaCry crisis, 150,000 people visited the website.
The No More Ransom platform is now available in twenty-six26 languages, with the most recent additions Bulgarian, Chinese, Czech, Greek, Hungarian, Indonesian, Malay, Norwegian, Romanian, Swedish, Tamil and Thai.
More than 100 partners: no boundaries between private, public or competitors
No More Ransom now has 109 partners. The most recent additions include: Abelssoft, Ascora GmbH, Barclays, Bitsight, Bournemouth University (BU), CERT.BE, Claranet, CERT PSE, Cyber Security Agency of Singapore (CSA), ESTSecurity, Fortinet, Global Forum on Cyber Expertise (GFCE), InterWorks, IPA (Information-technology Promotion Agency, Japan), KISA (Korea Internet & Security Agency), Munich Re, TWCERT/CC, LLC, University of Porto and vpnMentor.
Four new law enforcement agencies have also joined from Czech Republic, Greece, Hong Kong, and Iran.
"The success of the No More Ransom initiative is a shared success, one that cannot be achieved by law enforcement or private industry alone," Europol says. By joining forces, we enhance our ability to take on the criminals and stop them from harming people, businesses and critical infrastructure, once and for all."
Many up to date ransomware prevention tips are available on www.nomoreransom.org.